The film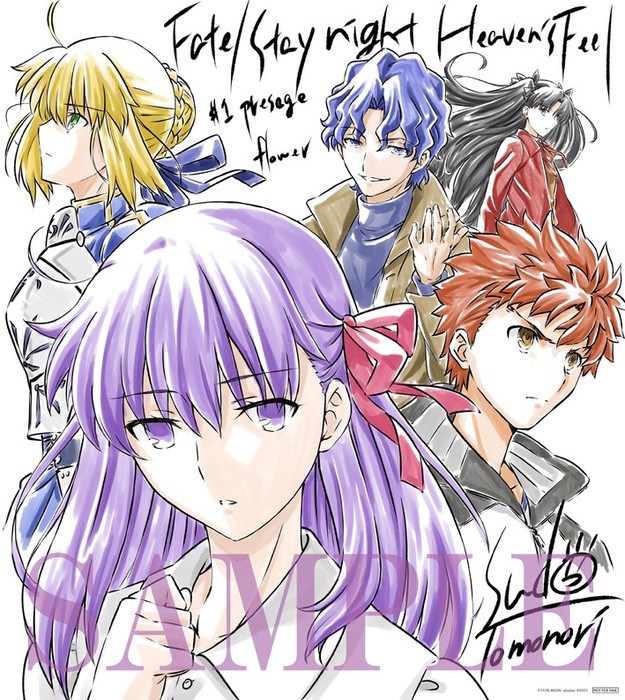 trilogy of Fate/stay night: Heaven's Feel reveals all the details concerning the first film, titled Fate/stay night: Heaven's Feel I. Presage Flower.
Everything was revealed on Wednesday, stating that the film's screenings in Japan will expand to 30 theatres. It begins on December 16th; the screenings proceed to January.
As a celebration of this wonderful news, director Tomonori Sudou drew a memorial portrait, as he called it, people will receive beginning on December 9.
Details:
The film ranked first at the Japanese box office, including both attendance and box office earnings on October 14th. During the first days of its screening, it earned a pre-screen average of 3,226,802 yen, as in 29,000 dollars US. It sold about 247,509 tickets for an amount of 413,030,840 yen, which equals 3.69 million dollars US. Then, it earned up to 1.35 billion yen, which is about 12 million dollars US, as it sold more than 900,000 tickets as of November 26th.
The premiere event for the film was held at The Teater At Ace Hotel in Los Angeles, USA, on November 3rd.  After that, more theatres joined in, screening it on November 17th, which extend till mid-December.  On Aniplex of America's website, you can find the list of theaters and dates for the screening. In addition to that, Canada will be screening the film on January 14th.
Additional Info:
Fate/stay night: Heaven's Feel II. Lost Butterfly, also known as the second film in the trilogy, debuts in 2018.
Heaven's Feel takes its settings from the original Fate/stay night visual novel; the manga adaptation of the route launched in May 2015.
"Unlimited Blade Works" route was adapted into a television anime, which premiered in October 2014.
As mentioned before, Tomonori Sudou is directing the film; Ufotable is taking care of the animation. Also, Yuki Kajiura, the composer of Fate/stay night: Unlimited Blade Works theme song and Fate/Zero music, is also composing the music for this adaptation. Takahiro Miura proves the storyboards. Aimer, on the other hand, is performing the film's theme song.